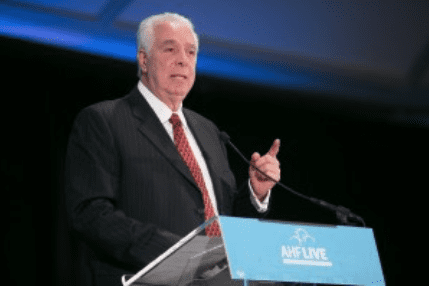 Former Congressman Marty Russo speaks to an audience in Chicago about how to have more influence on affordable housing finance legislation.
It was an honor to speak to a group of affordable housing finance experts at the AHF Live Summit.
AHF Live is held each year to bring together industry thought leaders so that the hard issues facing affordable housing finance can be tackled with a diversity of viewpoints.
My presentation highlighted the current political and legislative environment in Washington. I gave my thoughts on how industry leaders could make a strong case to Congress for supporting the expiring low income tax extenders.
John McManus references my speech as he writes about the challenges of enacting change in his article, Progress on True Cost v. First Cost in Builder Magazine:
"The point is this, Congressman Russo suggests. Shoot for influence, not for power. Power, he says, is overrated, and will remain an eternally intractable source of frustration. Influence, whether it's among politicos who are constantly seeking election or re-election, or among corporate executives whose masters are boards of directors and quarterly earnings statements, or big vague generational cohorts that marketing consultants describe as homogenous consumer behavior segments, comes three ways.
– Make relationships
– Use facts to support your case
– Know your "ask," and, don't leave the room until you make your "ask"
Now, these tips may strike one as obvious. But in an industry where somebody in a Net Zero home has to put in an A/C unit to sell it, maybe the obvious is where we need to level-set. "
Affordable housing leader Donna Kimura notes some of my commentary in her article, How to Make the Case for Affordable Housing in Washington: Advice from a longtime legislator:
"The third key [to influence] is to "know your ask." The single-most important job of a lobbyist or an advocate is to know what to ask for, according to Russo. "Don't leave a meeting without saying to your member of Congress, 'I would love your support for X, Y, or Z,'" he said. These strategies are particularly relevant for the industry as the housing credit will come under scrutiny as part of a tax reform effort. Russo recalled that the LIHTC program was established largely because Rep. Charlie Rangel (D-N.Y.) was its champion back in 1986. "The housing credit was the most important thing to him," he said. "It got done because he never backed down."
The affordable housing industry is at the forefront of ensuring that private-public partnerships continue to strengthen our nation's housing solutions for low income citizens. After meeting industry leaders at the AHF Live Summit, I am confident they will continue to do great work to advance the cause.