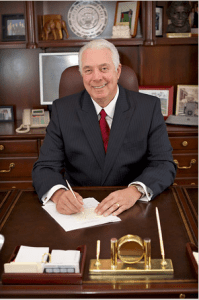 Former Congressman Marty Russo
Former Congressman Marty Russo is a noted speaker and lecturer on how businesses and associations can have more
influence on decisions being made in Washington DC.  He tells audiences to get involved and make a positive impact.
He draws on a long career in public office and as a top federal lobbyist to speak about what is happening in Washington, and how you can have a stronger impact. Marty has his own consulting firm that provides high level government relations counsel, for more information visit Russo Capitol Strategies, LLC.
A passionate believer in the First Amendment right to "petition the Government for a redress of grievances," he believes that the best lobbyist is one who gets involved and presents public officials with credible, relevant information that encompasses all sides of an issue.
As a nine term veteran of the U.S. House of Representatives (D-3rd/IL), Marty has walked in the shoes of an elected official who must tackle tough public policy issues while still answering to constituents back home.
Marty served as CEO of one of Washington's largest and most prestigious government relations firm and in his eighteen years of service he counseled hundreds of clients.
He serves as an officer of the American Australian Council, on the Congressional Fiscal Leadership Council (CFLC) of the Campaign to Fix the Debt, and on the Advisory Board of the Leadership Institute at Loyola Marymount University in Los Angeles, California.
A native of Chicago, Marty received his B.A. and J.D. from DePaul University.
Here's a clip of Marty speaking about how his family inspired him to want to make a difference in the world:
This viewpoint guides his advice on how to have more influence in Washington.  He believes in being active — get involved early and make sure your voice is heard.